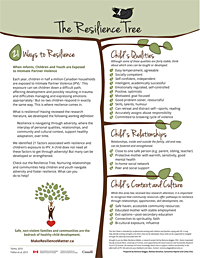 Practitioners, researchers and policy-makers: We invite you to explore our continually developing list of practical tools and informative resources.
Please contact us for permission before reproducing any information from this site. We'd love to know how you plan to use the material in your work! It helps guide what we do.

Practice of Trauma-Informed Care – Integrating Trauma and Resilience
Workshop for Professionals April 2017
Practice of Trauma Informed Care – Dr. Ramona Alaggia
Video: Paradox of Trauma Informed Care
ARC Model of Trauma-Informed Care – Dr. Delphine Collin-Vézina

21 Ways to Resilience Fact Sheet – Learn how you can identify—and help  strengthen—the 21 factors associated with children's resilience and IPV.

Resilience and Children's Exposure to Intimate Partner Violence: A Snapshot of the Research Literature – Discover the salient points of current research in one quick read—can your work benefit?

"The lie is that it's not going to get better": Narratives of resilience from childhood exposure to Intimate Partner Violence – Learn from  the  experiences and insights of 12 adults exposed to IPV as children.

"Take These Broken Wings and Learn to Fly: Applying a Resilience-Informed Lens to Practice with Children Exposed to Intimate Partner Violence" – Incorporate a resilience-informed approach into your work through this in-depth review of the research literature—plus  two instructive case studies. Please contact Ramona Alaggia directly for permission to access this password-protected document.

How Resilience Reveals Itself – Intl Conference Presentation July 2016 – Overview and insights from 12 adults exposed to IPV as children.

Make Resilience Matter Symposium – Workshop for Professionals April 2016 – New research to help inform your work.